Boat Light Parade 2019: A Celebration of Lights, Christmas & Boats
Boat Light Parade 2019: A Celebration of Lights, Christmas & Boats
Bigger and brighter than before, this year's parade was held in conjunction with the Sentosa Island Lights exhibition over 16-17 November, illuminating the Sentosa Cove precinct from land to sea with a colourful display of interactive light installations and extravagant decorations.
The ONE15 Christmas Boat Light Parade competition comprised 2 categories – Static Boat Display, and Boat Parade. Participating boats stood to win up to $5,000 cash and $3,200 berthing credits to berth at ONE°15 Marina Sentosa Cove. This year's participating boats came armed with their best game, adorning their decks with LED lights, Christmas-themed inflatables, and the dance and cheers of their enthusiastic crew members.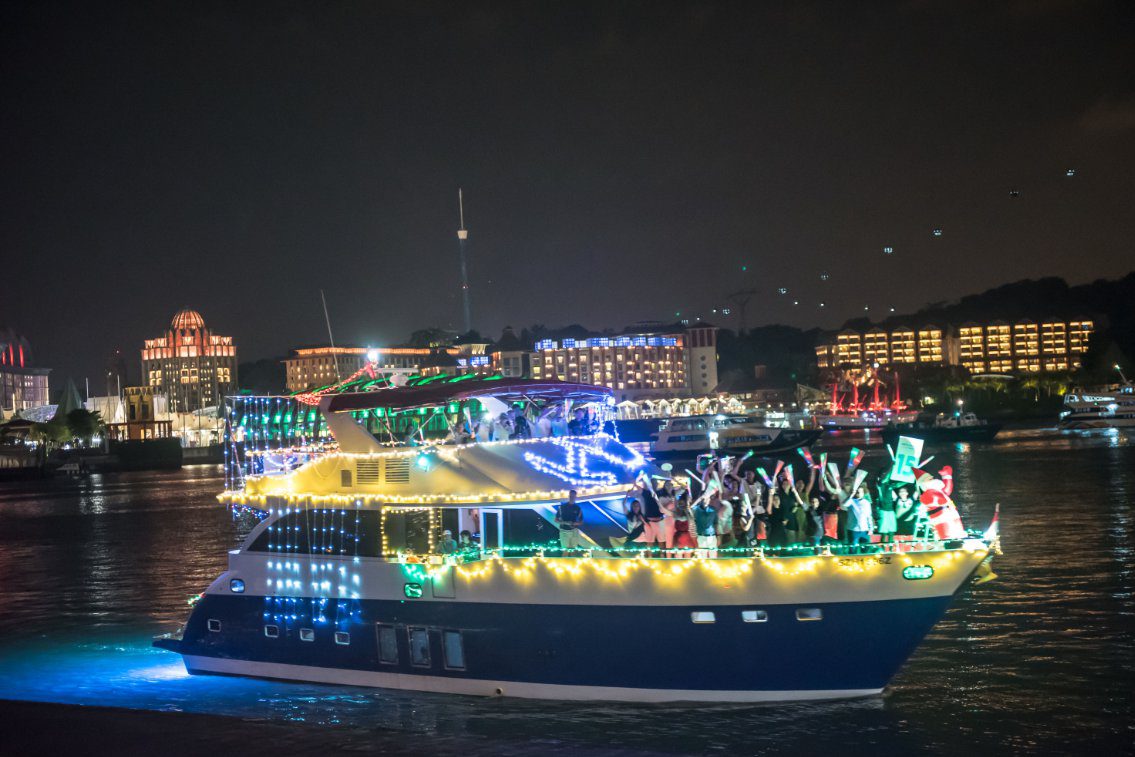 The crew from Anka participating in the Boat Parade category
Abenaki, a top contender every year, brought their A-game with colourful costumes and wacky mascots. Hye Seas II showed off their creativity with a beautiful display of lights highlighting life in the marina. Achates went all out in the theme of Super Mario, while the crew over at Xiao Lin flashed their torches to hype up the crowd as they cruised into Harbourfront.
ONE°15 Marina Members enjoyed front row seats to all the action, on the Members' Christmas Cruise.
Over on the boardwalk, families and friends had fun winning prizes at the carnival game booths, indulging in tasty bites from the F&B booths, and snapping #instaworthy shots with the roving mascots and performers. A few lucky visitors even walked away with impressive prizes from the lucky draw, including a night's stay at ONE°15 Marina's Hillview room and a brand new Apple Watch!
As the sun set on the Cove, our Chairman Mr Arthur Tay 'lit' the way by lighting up the majestic Christmas tree in front of the Clubhouse, sparking a chain of shimmering splendor as the entire Quayside lit up in symphony. The Christmas tree light-up also kicked off the traditional 'Sounding of the Horns' where the marina's many vessels bellowed their horns in celebration of the Boat Light Christmas spirit.
The grand finale came during the closing party, where the winners of Boat Light Parade 2019 were announced. Members and select guests were invited to attend this exclusive occasion held by the infinity pool.
List of Winners 2019
Stationary Display
Winner for Power & Sail Boat 39 Ft. & Under: Abenaki
Winner for Power & Sail Boat 40 Ft. to 44 Ft.: Xiao Lin
Winner for Power & Sail Boat 56 Ft. & Over: Lady Quikglow 1
Best of Show: Lady Quickglow 1
Boat Parade
Winner for Power & Sail Boat 39 Ft. & Under: Abenaki
Winner for Power & Sail Boat 40 Ft. to 44 Ft.: Achates
Winner for Power & Sail Boat 56 Ft. & Over: Hye Seas II
Best of Show: Hye Seas II
The crew from Achates: Winner of 40 Ft. to 55 Ft. for Boat Parade category
As we kick up our heels and make merry, it's equally important to take a moment to think about our environmental impact.
Together with our sustainability partner Sembcorp Industries, ONE°15 Marina ensured that the entire Boat Light Parade was a carbon neutral event. We offset our carbon emissions from electrical consumption, F&B consumption and collateral production, by planting an appropriate number of trees to sequester our carbon emissions through Sembcorp's sustainability framework. Sembcorp also supplied power for the event using renewable energy solutions and efficient power generation that result in lower emissions.