Usher in the Year of the Rabbit with ONE°15 Marina Sentosa Cove's Chinese New Year Treats
Usher in the Year of the Rabbit with ONE°15 Marina Sentosa Cove's Chinese New Year Treats
SINGAPORE, 13 DEC 2022 – We may just be wrapping up 2022, but with Chinese New Year (CNY) just right round the corner in January, it is the perfect time to pre-order your share of appetising treats! From CNY must-haves such as Pineapple Rolls and Yu-sheng, to a one-of-a-kind spicy variation of the usual pineapple tart, ONE°15 Marina Sentosa Cove is all set and ready to welcome the new year with decadence.
Pineapple Tarts
This CNY, ONE°15 Marina brings back the crowd favourite Organic Pineapple Rolls ($31.80).This bestselling sweet treat is prepared with organic pineapple paste and rich Golden Churn butter – an ingredient comprising no artificial colours and flavourings to ensure your pineapple rolls remain naturally fragrant and creamy. With a pinch of Himalayan salt sprinkled on each roll for an enhanced flavour profile, these little pick-me-ups are sure to satisfy.
For the more adventurous, a piquant variation of the usual pineapple tarts will definitely pique your interest. Starring bird eye's chilli and premium dried shrimp, the Spicy Dried Shrimp Sambal Pineapple Tarts ($34.80) take on a spicy twist to provide a burst of complementing flavours and textures – ones that will provide a pleasant surprise with this distinctive combination.
If you enjoy a combination of both, gift yourself or your loved ones an Auspicious Duo ($60), comprising both the Organic Pineapple Rolls and Spicy Dried Shrimp Sambal Pineapple Tarts.
Yu-Sheng
No CNY celebration is complete without the fun of 'lo hei'. This emblem of prosperity is available in crispy Salmon Skin ($72 for a portion for 6, $82 for a portion for 10) and Baby Abalone ($88 for a portion for 6, $98 for a portion for 10) variations. Instead of the typically loved salmon sashimi, the Club has decided to prepare their yu-sheng options with fried salmon skin as opposed to raw fish following health concerns surrounding the latter. Each order of yu-sheng is also only prepared upon ordering to ensure customers receive only the freshest.
Chinese New Year Treasure Abalone Pot
The festive season is one of the best times for indulgence and for those keen on ushering in the new year in luxury, the Club's Chinese New Year Treasure Abalone Pot ($388 for a portion for 6, $568 for a portion for 10) has you covered. With a luscious array of ingredients including abalone, sea cucumber, fried oyster, chicken pullet and more, this dish is all-things-exquisite in a single pot. For a fulfilling moreish umami, its stock is meticulously prepared with a variety of elements including pork rib and lean meat, before being stewed for over four hours to ensure a flavourful and hearty broth is served.
Savoury Dishes
Beyond the must-haves, ONE°15 Marina is also excited to bring a variety of dishes for the star of your reunion dinner. For the wondrous balance of sweet and savoury, the caramelised Barbecued Batalle Duroc Pork Char Siew ($52.80) is prepared with a golden fat-to-meat ratio to provide well-balanced bites of juiciness and tenderness.
For an extra layer of crunch for that burst of textures, the Crispy Batalle Duroc Pork Belly ($52.80) is roasted in order to ensure the crispiness of the skin and buttery succulence of the meat is retained.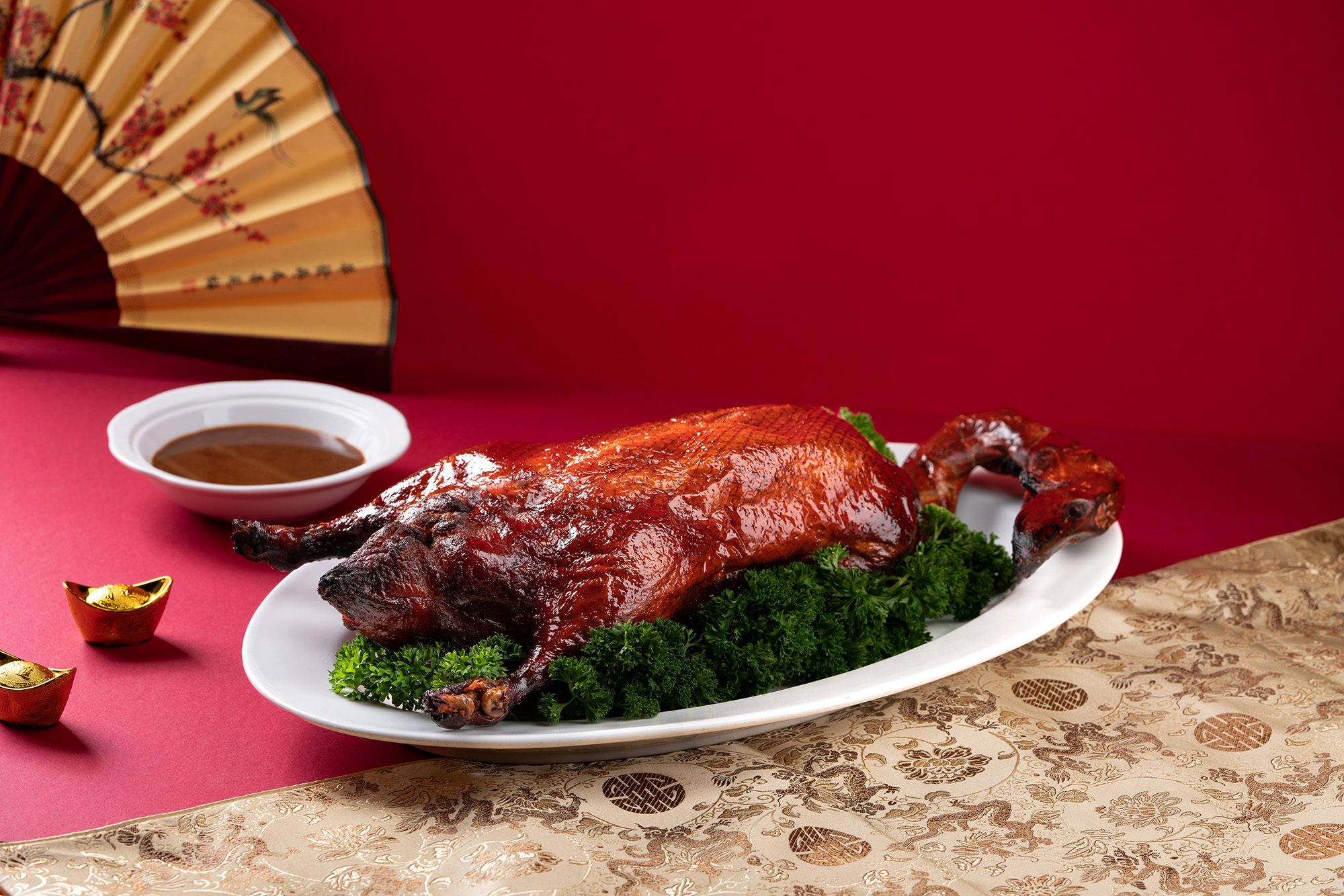 Alternatively, for those seeking a different type of roast, the 48-hr Dry-aged Barbecued Duck ($56.80) is roasted in a traditional hanging furnace for that tantalising smokiness which layers each bite of its supple meat.
If you are looking for a good offer, various bundles are also available for grabs so you can get your fill of goodies and dishes for your celebrations.
This Chinese New Year, ONE°15 Marina is fully geared up to bring a generous variety of treats to accompany your festive celebrations. From the traditional to the unique, the Club hopes to bring to your table a dash of indulgence – appropriate for ringing in a prosperous new year.
Pre-orders begin from 15 December 2022 onwards, and the Chinese New Year goodies are available for takeaway and delivery from 3 January to 5 February 2023.
Kindly note that delivery is not available on 21 to 23 January 2023. A minimum order of $300 is also required for complimentary delivery. Self-collection from WOK°15 Kitchen will be available from Tuesday to Sunday.
Find out more about the goodies here: one15marina.com/shop/chinese-new-year-specials/.