Member Spotlight: Dr. Andrew Unterweger
Member Spotlight: Dr. Andrew Unterweger
Although Dr Andrew Unterweger is a qualified medical doctor, he admits with a laugh that he only practiced for three months before moving on to finance and property. "I like commerce more than science so I went down that route," he says.
He started a financial advisory business in Australia that was geared for the professional market of doctors and lawyers. When that grew, he began a property business for those wanting to buy investment properties. "We deal with expats mainly, who want to buy properties in Australia. We help them with the financing and all the other issues involved with owning an Australian property," he says.
Dr Unterweger is the founder and CEO of The Unicorp Group, and Chairman of Wise Guru. He was born in Austria, but has lived in many parts of the world, including several Australian cities. He has been in Singapore for the last four years, and became a Club member three years ago.
"It was a combination of things that drew me to join," he says. "I was living on the island so it's part of the Sentosa lifestyle if you want to access the water and go boating. And it's very convenient to go and sit at the balcony of LATITUDE Bistro and have a casual meal. There are lots of good attributes. It was also more of a family thing."
His family—he has five children between the ages of 10 and 27—enjoys different facilities at the Club. The younger kids like the pool and activities with other children, while the older ones prefer to play tennis and work out at the gym.
Personally, he comes mostly to dine, once or twice a week, depending on his sometimes-busy travel schedule. "The food at the bistro is casual and easy, and WOK°15 Kitchen is nice when you feel like something Cantonese," he says. He also likes bringing guests and entertaining at the Club, including at the Boaters' Bar. "I like bringing guests from overseas and showing them the beautiful view of the Marina."
A key feature that he likes about the Club, is how much the setting resembles seafront views in Australia. This helps him showcase the lifestyle to potential clients. "When I have guests from overseas and I talk to them about Australian property, I show them the view here, which bears a massive resemblance to so many places in Australia. You could be in the Gold Coast or the Sunshine Coast," he says.
When Dr Unterweger and his family used to live on Ocean Drive, they would cycle or walk the two minutes it took to get to the Club. They have since moved and are about a 15-minute drive away. Even so, he admits that the distance hasn't curbed the desire to come to the Club. "It's not that far away," he quips. "And on some level, I think it's even more fun now. Even though you're not living next door, it gives you a bit of entrée to the harbour front."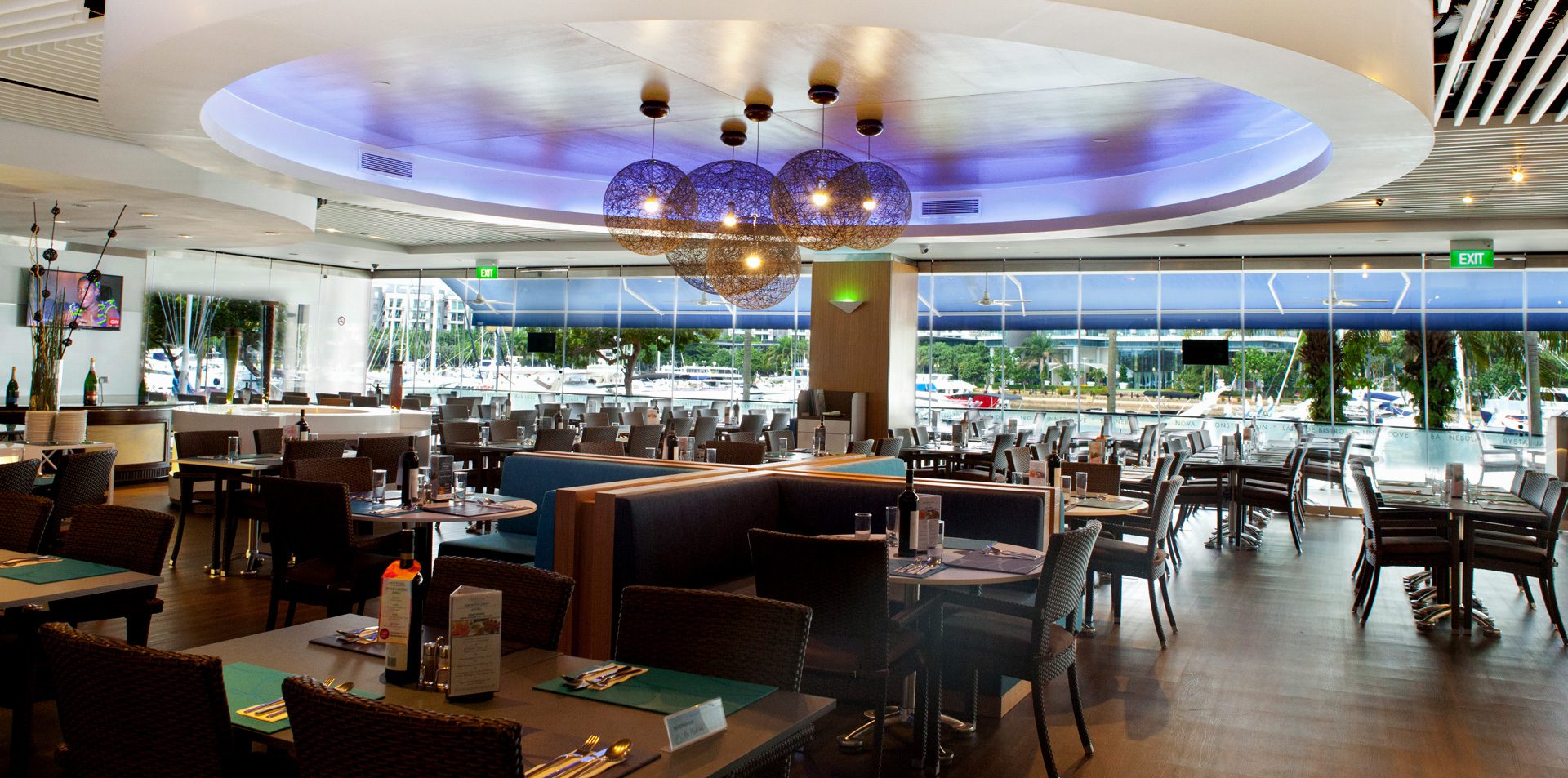 When he does manage to visit, he typically spends a couple of hours at the Club's dining outlets and leisure facility.
Dr Unterweger describes the ambiance at the Club as a "seaside holiday atmosphere". "You can just cross the bridge and it already feels much more of a holiday atmosphere. It's like a resort," he says.
Although he counts all his Club outings and activities as being very enjoyable, one of his favourite memories is of coming by with his family during the festive season. He loved the decorations that had been put up around the Club, which gave it a very warm feel.
"I think the way the Club has been set up is good in terms of the various areas you can utilise when you socialise here. I can even bring my dogs. It's also good for the younger children because many of our friends have younger children. It's relaxed. You don't have to worry too much," he says.