On Water: Interview with Captain Charlie Dymock of Twizzle
On Water: Interview with Captain Charlie Dymock of Twizzle
Standing on the deck of superyacht Twizzle, the tall captain cuts a surprisingly boyish figure against the brilliant blue afternoon sky. A young 36-year-old, Captain Charlie Dymock helms a stunning 189-foot Royal Huisman Fast Cruising Ketch—one of the best of its kind.
In the midst of a round-the-world trip, the gorgeous watercraft had already visited Palma de Mallorca, the Caribbean, Florida, the Bahamas, Cuba, Panama, Costa Rica, the Galapagos, New Zealand, Australia, the Solomon Islands, Vanuatu and Indonesia before arriving at ONE°15 Marina Sentosa Cove.
The English captain does not look the least bit winded after this long voyage. This is, after all, Captain Dymock's third round-the-world trip, and his second with Twizzle.
Born on the south coast of England, Captain Dymock is the son of a now-retired admiral from the United Kingdom Royal Navy. He first sailed an Optimist dinghy on his own at the age of six, and practically grew up on boats. Though he always knew he would work close to the sea, a transformative experience at the age of 18 made him aspire to commandeer his own yacht one day.
"I was a deckhand helping out on the yacht of New Zealand yachtsman Sir Peter Blake on the Amazon River for a few months. Sailing with one of the most famous yachtsmen and a legend of the sea was very inspiring," Captain Dymock recalls.
Never in his wildest childhood fantasies, however, did he expect to be sailing such a magnificent yacht as Twizzle. More so a few decades ago, when superyachts did not even exist and a 40-foot boat was considered big.
Captain Dymock's admiration for the watercraft is almost palpable: "A huge amount of effort went into (her) design and everything was thought about meticulously," he enthuses. "The detailing is very impressive."
A whimsical story surrounds the naming of this grand dame. Named by the daughter of the previous owner, Twizzle was a "living" doll from the 1957 United Kingdom children's television programme The Adventures of Twizzle that escaped from a toy shop and set off on adventures.
Twizzle has embarked on some breathtaking adventures. The boat and her owners have journeyed to Fakarava, a gorgeous atoll off the French Polynesian Tuamotus Islands, diving with dolphins, oceanic whitetip sharks and blacktip sharks. They also encountered magnificent whale sharks in Cenderawasih Bay, Sorong, Indonesia. And on a trip to the Galapagos, Captain Dymock himself swam among what was literally a wall of 200 hammerhead sharks.
"They were so close that you felt like you could almost reach out and touch them. Being underwater with them is very different to seeing them from the air or on television. It is not frightening at all. When you are underwater, you feel at peace and at nature with them," he shares.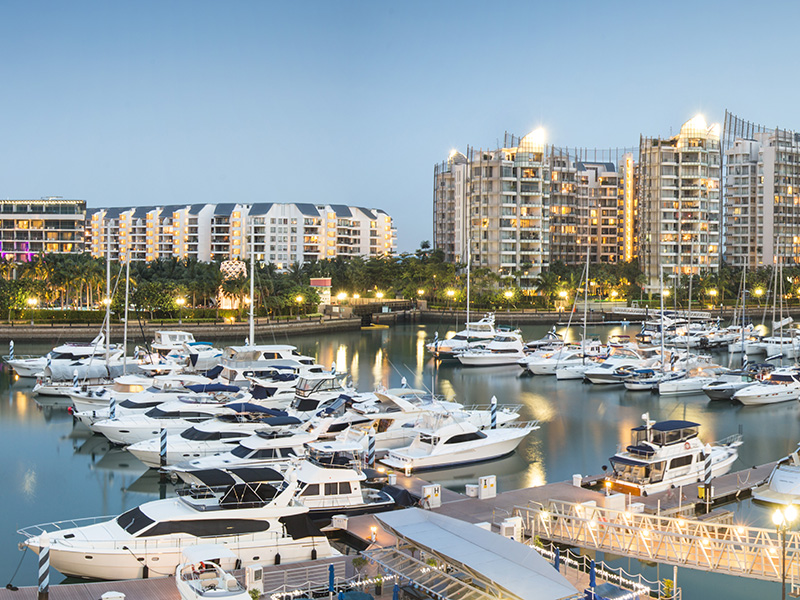 Before arriving in Singapore, Twizzle spent two months exploring the islands of Indonesia. And as much as Captain Dymock enjoys the seafaring life, two months among remote Indonesian islands  had the Twizzle owners and crew craving for civilisation. So they made a three-week stopover at ONE°15 Marina Sentosa Cove to enjoy the charms of cosmopolitan life.
This was Twizzle's second visit to the marina— after the 2013 Singapore Yacht Show. "The owners and crew enjoyed their experience the first time, so Singapore was immediately on the radar when we were planning this trip," shares Captain Dymock.
"It is a safe, protected marina, and the location is fabulous—you can be in town very quickly and enjoy a Singapore Sling or two at Raffles Hotel. And you can easily get back to the boat when you need to get away from the bustle of the city. The marina is also well-rounded with a nice pool, concierge, buggies and great service"
Captain Dymock and his crew will slowly make their way back to the Mediterranean Sea by April 2020 for summer, and end this round-the-world trip in September at the Royal Huisman shipyard in Holland for Twizzle's 10-year refit.
Best Of Both Worlds
Captain Dymock has been a captain for four years now, but his passion has not abated one bit. "It's always a challenge, no matter how well prepared you are. There is always an element of doubt and of being in nature's hands, it's exhilarating," he shares.
But the young captain loves city life and family bliss as much as he enjoys the ocean. He spends two months on board as co-captain of Twizzle, and the next two months with his wife and two children in England's South Downs National Park.
"My family means very much to me, so during my two months at home, I try to make up for the time I've been away by being a good dad," he says. "I also enjoy the contrast between the ocean and greenery, so I enjoy the trees, hills and open countryside when I'm not out at sea."