ONE°15 Marina celebrated its 12th Anniversary with the highly anticipated annual Marina Clean-up and Eco Day Carnival. Over 100 land volunteers and divers joined in to help out at the event.
Held on 8th September 2019, the day kick started with a safety briefing and mingling session between volunteers and their assigned leaders for the day. The excited team of divers and land volunteers were greeted with warm and sunny weather in the morning, perfect for a Marina Clean-up. After gearing up with nets and diving necessities, all the volunteers dove into action to pick up as much trash as they could at the Marina.
The hardworking divers managed to reel in a rusty shopping cart, among several other items that did not belong in the Marina, including traffic cones, a skateboard and glass bottles. It was definitely one of the highlights for the whole day event.
Here's what they found:
60kg Metal rubbish
8kg Plastic
1 storage trolley
1 bicycle
PACT Project – Coral Garden Update
ONE°15 Marina is extremely honored to have our event sponsor, Marina Technology & Construction Pte Ltd (MTC) as a part of the PACT (Plant-A-Coral-Today) Project. While the Marina Clean-up was happening, a group of divers from NUS Tropical Marine Science Institute played their part by planting corals at the Marina, in an effort to build a thriving Marine biodiversity within the waters of ONE°15 Marina Sentosa Cove.
It was time to unwind and relax by the poolside after a morning of intense activities. The Eco Day Carnival had game booths, free popcorn, the Impossible menu serving at food stalls, upcycling workshops, and even a 10m obstacle course in the pool for the little ones. A few eco-friendly vendors were invited as well, to sell their eco-friendly and sustainable items ranging from daily necessities to apparels.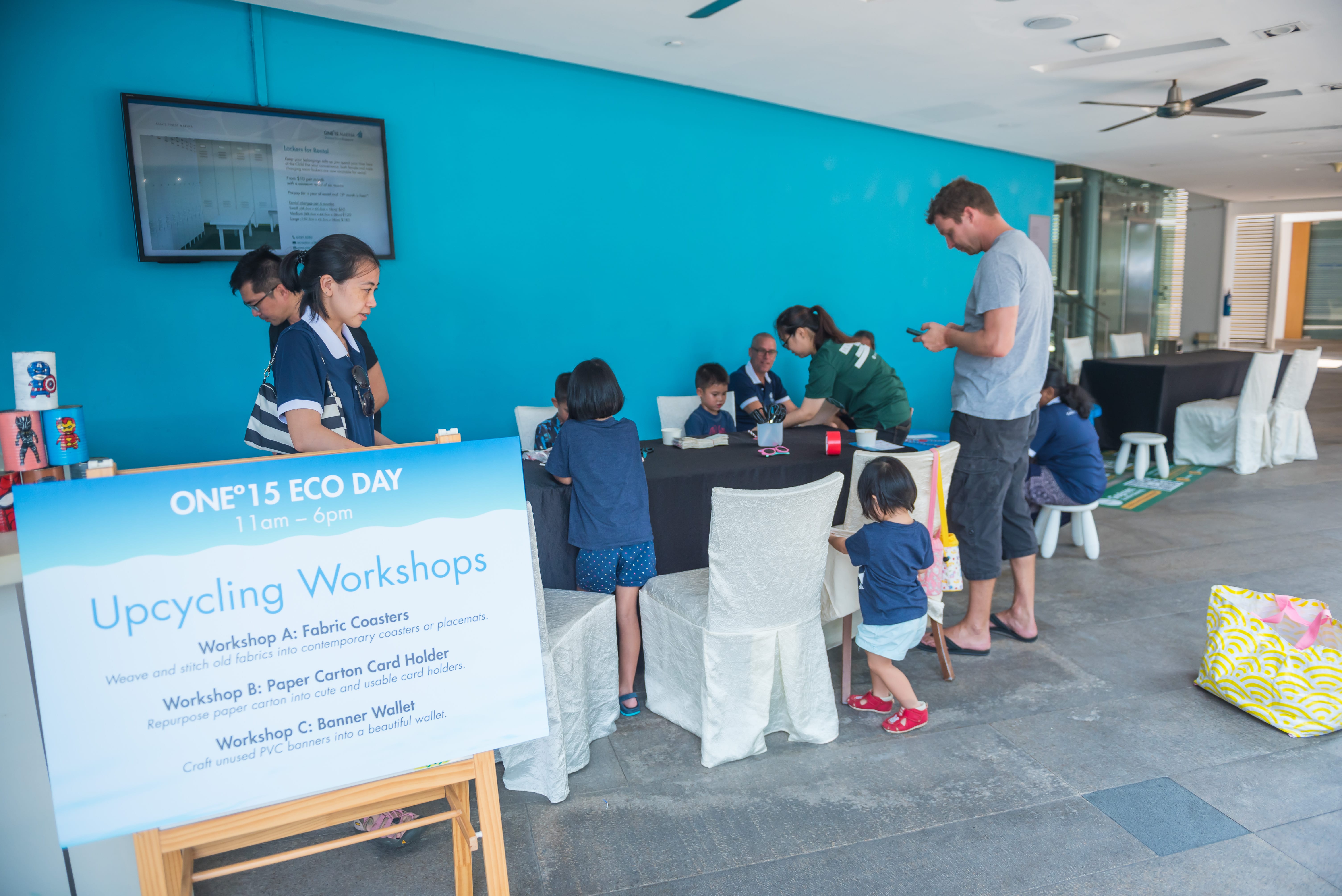 ONE°15 Marina Sentosa Cove is proud to host the annual Marina Clean-up and Eco Day Carnival for our 12th Anniversary. We hope that Members and the public will be more environmentally educated and motivated to act responsibly when out at sea. We look forward to welcoming you at next year's Clean-up!
To view more pictures of the event, click here.
EDIT: This event has been featured on Marina Industries Association's magazine (pg 9)
---
ONE°15 Marina Sentosa Cove organizes various joyful and memorable events every month for our Members. See more upcoming Member events here.