ONE15 Christmas Boat Light Parade™ 2021
ONE15 Christmas Boat Light Parade™ 2021
ONE°15 Marina Sentosa Cove kick-started its Christmas celebration with the annual ONE15 Christmas Boat Light Parade™ on 4 December, after a one-year hiatus due to COVID-19.
This event, dedicated to our boating community, lit up Sentosa Cove on a Saturday night and the marina was the liveliest it has been in two years.
15 participating boats came together to compete for a total of $10,000 berthing credits across eight different categories. The judges had a tough time deciding as many boats were elaborately decorated with lots of efforts put it.
Abenaki's and Verve's crews decked out in festive costumes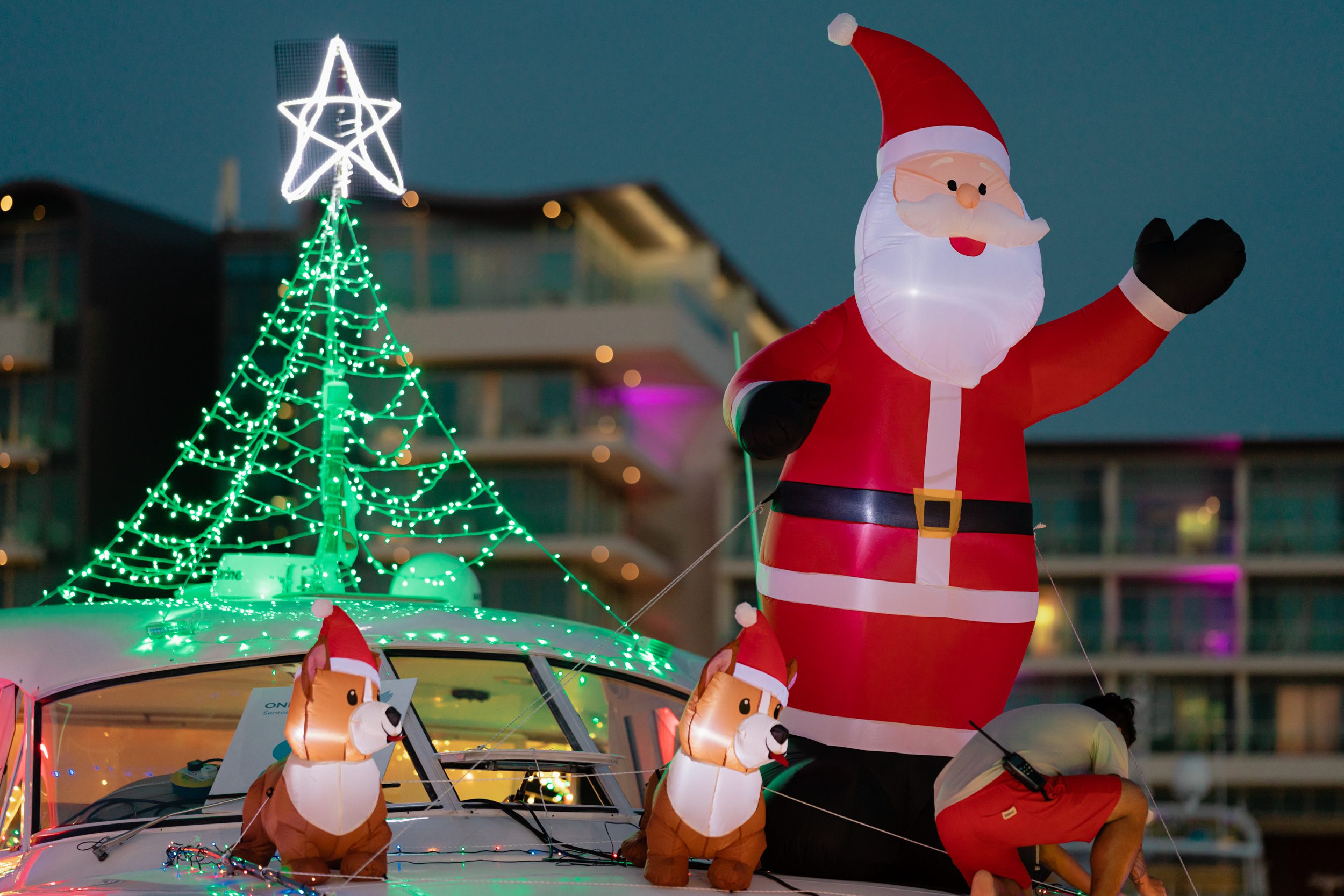 TEXSIN's set up for the night
Hye Seas II sported a dazzling display of lights with a Christmas tree and a spouting Merlion
The evening began with Santa arriving in a jetski who drew cheers from passer-bys along the boardwalk. Following Santa's appearance, boats united in a Symphony of Horns and turned on the lights on their boats. With the dimming of sunlight, Sentosa Cove glowed with dazzling fairy lights, colourful LED displays, and inflatable Christmas characters such as Santa Claus, reindeer, snow man and the crafty Grinch (who, together with boat Abenaki, stole the show that night!)
Santa greeting the passer-bys on the jetski
A floating Christmas tree in the middle of all the action
Due to strong winds, the cruising parade had to be cancelled. Nonetheless, our judges went around to the different boats to rate the displays. Our members and boaters were also invited to vote for their favourite boat through an online poll. A total of 203 votes poured in within an hour and TEXSIN emerged the winner of the People's Choice! A lucky participant from the online poll also walked away with a bottle of wine from the Club.
The crowd truly immersed themselves in the festive spirit – photo-taking, posing with the boats and even donning on Christmas gears!
Boaters' Bar was packed with diners
Everyone was glad to attend an event after such a long time and feedback from boaters included "it was a very uplifting event", "what a fun night", "the Boat Light Parade brought the much needed festive spirit" and "thanks for a great event"!
We couldn't agree more and we look forward to holding more events as such!
Our heartiest congratulations for the winners of the night:
Sail Boat and Best Team Costume: Abenaki
Catamaran: Honest Mistake
Motorboat <35ft: Kono 2
Motorboat 36 – 45ft: Verve
Motorboat 46 – 65ft and People's Choice: TEXSIN
Motorboat >66ft: Hye Seas II
To view more pictures of the event, click here.
Watch here to see the highlights of the event:
The event was proudly sponsored by Simpson Marine, Hong Seh, Garmin, Boat Lagoon Yachting, Aperol Spritz and SG Marine Guide.
The event has been featured on Yacht Style.
---
ONE°15 Marina Sentosa Cove organises various joyful and memorable events for our Members. See more upcoming Member events here.