Meet the Team: Teresa Chu, Membership Director
Meet the Team: Teresa Chu, Membership Director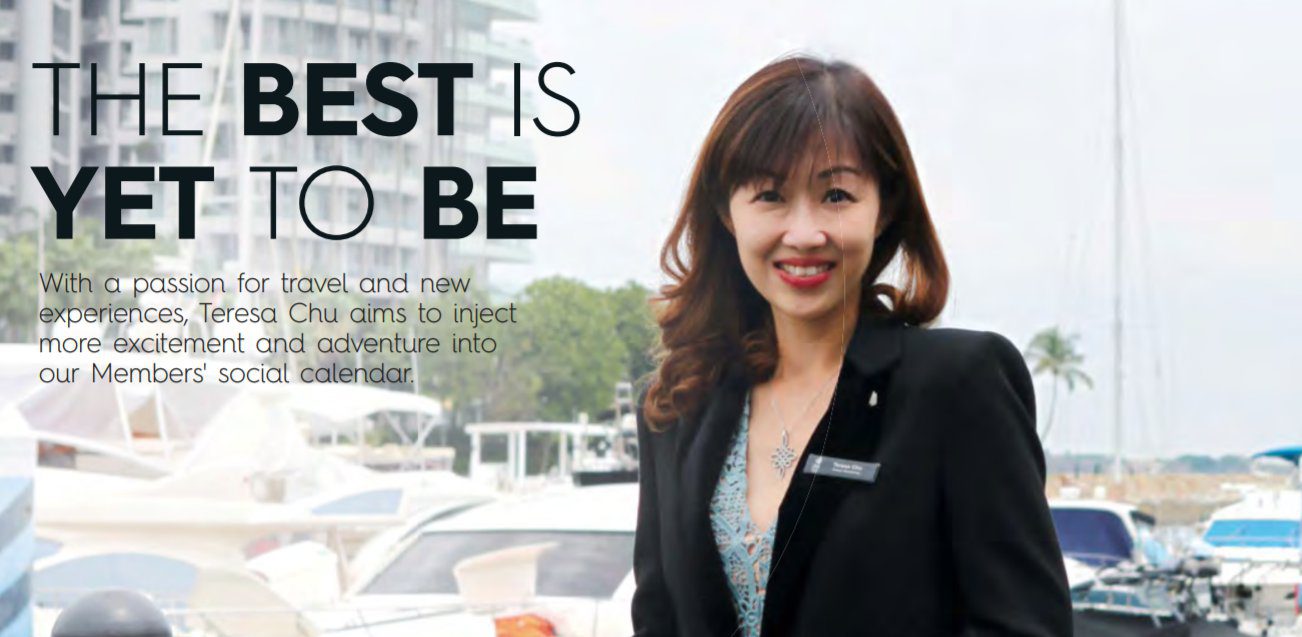 LONGITUDE: Welcome to ONE°15 Marina Sentosa Cove as our new Membership Director. Would you like to tell us more about yourself?
TERESA CHU: I am a sociable person. I like to meet new people and I am interested to know more about their lives, what they do, and talk about common interests. Part of my job is to help connect Members to one another, and facilitate the forging of strong friendships and business networks. This is definitely what I am passionate about, and I look forward to meeting more Members at upcoming events. So far, I have met many friendly Members at events such as Lamborghini Dine & Drive and the CEO Dialogue Series, where many have shared with me remarkable success stories of their businesses and interesting personal hobbies. I am thrilled to be able to get to know each and every Member more.
What do you hope to achieve in your time here as Membership Director?
I hope to deepen the Club's engagement with its Members by creating more events that match their interests and allowing them to enjoy the Club facilities and hospitality at these events. I will also look at improving communication with Members by ensuring that dialogue is open, frequent and personable. The ONE°15 Marina Members' app is in development at the moment, and I foresee it will aid greatly with communication flow as well as the dissemination of information to our Members.
Finally, I am working with the team on the expansion of the ONE°15 Marinas in Jakarta and Malaysia. With more marinas coming up, Members will enjoy more choices when choosing a yachting destination as well as Member privileges when they travel from one home club to another. Members will also find their membership value increasing with these additional global benefits.
How will you be adding value to the membership and what new things will you be bringing to Members' social calendar in the near future?
Members can look forward to gleaning wisdom from high-profile speakers at the CEO Dialogue Series, a car convoy to durian plantations and an inter-club golf challenge. More exciting events will be revealed in due course!
Could you share with us a memorable moment you experienced at ONE°15 Marina?
I was intrigued by the passion of some of our Members who are into supercars and driving. At the Lamborghini Dine and Drive event, I witnessed Members having merry conversations about their shared interest, and the energy at the event was just amazing. I hope to continue creating more of such events for Members.
In your opinion, what skills are crucial for excelling as a Membership Director?
It is important to have a flexible mindset and be able to think creatively. Fresh ideas will help to improve the Club's service standards and bring greater satisfaction to Members.
What is your philosophy in life?
Adversity and challenges will awaken our inner strength and spirit of resilience to face life's biggest moments, leading to achievements that surprise us. Overcoming them is what makes life meaningful. As the saying goes, "When life gives you lemons, make lemonade".