Member Spotlight: Rene Bach Larsen
Member Spotlight: Rene Bach Larsen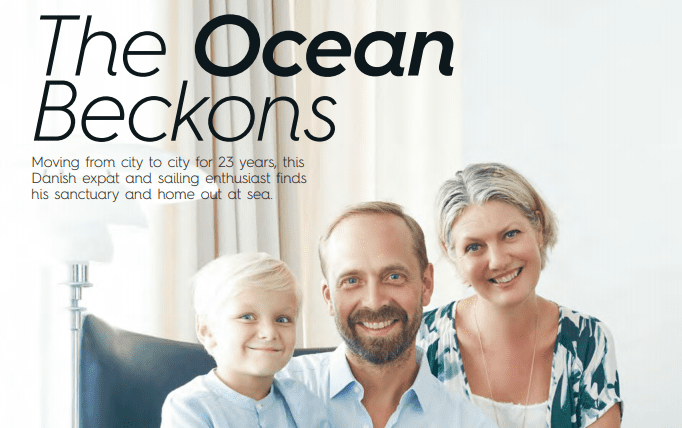 The Danes are said to have salt water in their veins. Flanked by the icy North Sea and the Baltic Sea, Denmark is the historical home of the Vikings. Many Danish families today, such as Rene Bach Larsen and his wife Henriette, still feel an inexplicable intimacy with the ocean.
"My love for sailing has much to do with my upbringing—my wife and I both come from families with boats. We never went on chartered or ski holidays, and spent all our free time sailing. Every summer holiday, until we both came of age, we'd spend three weeks sailing around Denmark, Germany and Sweden. Naturally, when we came of age, we tried to borrow the boat and take it out ourselves," shared Rene.
Pointing to a large scar across his palm, faded over many decades, he said quite matter-of-factly: "My dad built all three of our family boats from sketches. Each boat took 1,000 to 1,200 hours to complete. I spent most of my winter weekends helping him. I got this scar when I was 13. I was taking out the filler of the teak deck, and it slipped and hit my hand."
Nothing has changed for the 47-year-old. After moving from Amsterdam to Jakarta, Delhi and then Singapore over more than two decades, he still deeply longs for the seascape of his youth.
"The ocean, the smell… it's something I am very strongly drawn to. I love sailing not just because it allows me to come close to all these childhood memories; I love the feeling of being driven by wind—you really get to feel how small you are," he explained. "It's also a complete relief from stress, being out of cellphone range. There is no weight on your shoulders. It's just you and the elements. I'm more relaxed and happier when out at sea."
The managing director for Asean at Geodis Singapore pointed out that sailing was not always possible at certain points of his career. Nonetheless, some of the best memories of his adult life were spent on board a yacht.
"My friend bought a 62ft Swan in Hong Kong in 2005, and I came on board at Kota Kinabalu to help him sail it to Bali," he said. "There had been a gap in my life where due to work, I had not been on a boat for a very long time. So this was a great experience," he recalled.
Six years ago, Rene moved to Singapore. Today, his ground-floor residence at Sentosa Cove directly looks out to the placid waters right beside ONE°15 Marina. So it was only natural that the sailing aficionado should start shopping for his first boat.
On January 6 this year, he fulfilled his lifelong dream and acquired a 55ft Bavaria Cruiser previously owned by a maritime pilot. With the help of his dad and three friends, he sailed it 1,500 nautical miles from Hong Kong to Singapore over 10 days, making one stop at Anambas Islands Regency. This gorgeous watercraft is now anchored at ONE°15 Marina, where Rene has been a Member since late 2018.
"Wherever work takes me, living near to the sea and being part of the sea feels like coming home. It is something I would hate to live without."
"There is a reason they call ONE°15 the finest marina in Asia. The facilities for mooring and berthing are excellent. Whenever you come back from an afternoon of cruising, there are always people to help you and embrace you with open arms. In most other clubs, people tend to keep to themselves. However, there is a strong sense of openness and social friendship in a yacht club," he shared.
The father of two now spends almost every weekend cruising within Singapore's port limits with his wife, seven-year-old daughter and six-year old son. As soon as they sort out registration and licensing, the family intends to venture to Nikoi Island in Indonesia, and sail further to Phuket in time to come.
Rene pointed out that long trips tend to be challenging for young children. He explained: "It is not something they love right away. When you take children away from their friends and isolate them within a small area at an age when they want to run around and play, they get bored reasonably quickly."
Nonetheless, Rene shared that he intends to start his son Carl Philip on sailing the Optimist, an introductory sailing dinghy for children in a year or two in the hopes that someday, his son might experience the same profound joy of sailing.
"I have been abroad for most of my adult life— 23 years, in fact. We now refer to Denmark as our summer home. Wherever work takes me, living near to the sea and being part of the sea feels like coming home. It is something I would hate to live without," he reflected.