5 Best Staycation Inspiration For The Perfect Vacation In Sentosa
5 Best Staycation Inspiration For The Perfect Vacation In Sentosa
Overseas travel plans may be shelved for now, but that doesn't mean we can't enjoy a well-deserved vacation in town!
Located in the exclusive enclave of Sentosa Cove, ONE°15 Marina enjoys views of lush greenery and the sea, and a stay here will transport you right out of the concrete jungle. It is flanked by a strip of fine restaurants and guests may enjoy the charming lights and ambiance this neighbourhood has to offer at night. From a fun family-bonding getaway to a romantic escapade for the couples, ONE°15 Marina has an array of staycation and yacht charter ideas that will cater to everyone in the family.
Best part? There will be no worry of border controls and these vacation plans can be enjoyed without the hassle of taking a plane!
1. A Luxurious & Exclusive Sea-cation onboard Eagle Wings
Experience a luxurious, exclusive and unique getaway in the comfort of our little red dot. Yacht charters have been very popular since the lifting of restrictions as they provide a very unique experience from the usual hotel staycation fare that easily make guests feel like they are enjoying a getaway from their everyday life in Singapore. Moreover, yacht charters are also definitely safe from crowds!
Perfect for families, couples and a small group of friends – guests can delight in a more relaxing and tranquil sea-cation package onboard the exquisite Eagle Wings I and Eagle Wings II.
Both fleets boast a luxurious setting and are equipped with an exciting range of water toys and onboard amenities like kayaks, floats, karaoke, BBQ pit and cabins to lounge in. From a day of light water activities, BBQ feast and simply enjoying the sea breeze on the yacht, the Eagle Wing fleets are definitely the perfect host for any occasions.
Get in touch with ONE15 Luxury Yachting to enquire more.
2. A Wanderlust Sea-cation onboard Ximula
Discover the beauty of Singapore's tranquil island! As the name suggests, the 2D1N or 3D2N yacht charter on Ximula is designed for a wanderlust adventure that includes island-hopping and fun water sports!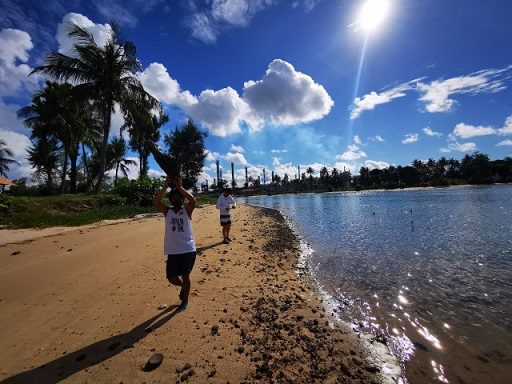 Perfect for charterers seeking for a mix of fun, adventure and exploration – the 3D2N sea-cation package will take you to iconic islands such as Pulau Semakau (Singapore's first and only offshore landfill island), Pulau Hantu, Sisters' Islands and Lazarus Island. While at the islands, guests may kayak around the islands or explore them on foot. Check out our guide to find more ways to explore Lazarus island.
In addition, guests can also explore historical landmarks such as St. John's Island, an island designated as detention barracks for prisoners-of-war during the Japanese Occupation before anchoring off at Pulau Ubin. On the last day, guests will have a good splash exploring the nature and waters around Seletar Island – a hidden gem in the northern coast of Singapore before heading back to the shore!
For a shorter itinerary, the 2D1N package also includes the likes of St. John's Island, Sisters' Islands, Pulau Ubin and Seletar Island.
Better news? Both the itineraries and menus on-board are also customizable to dietary preferences!
Get in touch with ONE15 Luxury Yachting to enquire more.
3. A Family-Fun Staycation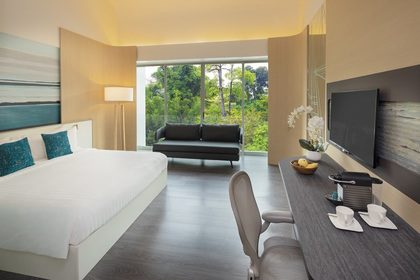 Perfect for families, indulge in the Family Getaway Staycation Package that includes a mix of perks and activities such as à la carte breakfast, free bicycle rental for two hours, $20 worth of arcade tokens, board games rental, children fun kit and an extra rollaway bed.
To continually provide a safe environment at the Club, Members and guests may rest assured in the heightened disinfection measures that the Club has taken. ONE°15 Marina Sentosa Cove is the first and only hotel in Singapore to coat hotel rooms with the highly effective self-disinfecting sdpro. High-touch areas in the Club has also been re-coated with sdpro.
A high performance self-disinfecting coating, sdpro features an antimicrobial technology with leading efficacy and durability that last up to 180 days with a single electrostatic spray application.
View more staycation offers here.
To start the day, families can enjoy a hearty breakfast at LATITUDE Bistro that offers a wide variety of international delights!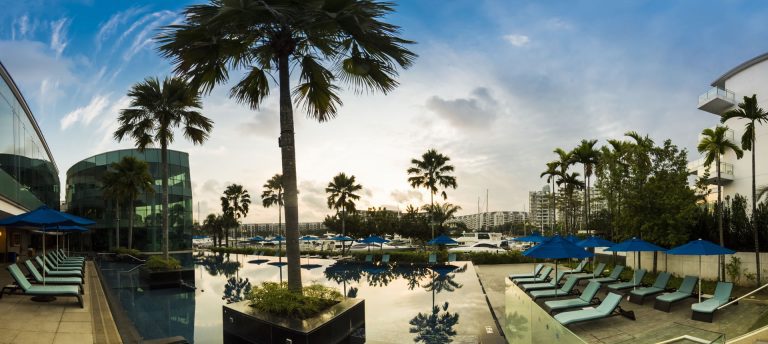 There are also an array of recreational activities available at the Club to choose from, such as taking a dip in our infinity pool or cycling along the peaceful neighbourhood of Sentosa Cove where you will be greeted by tranquil views of the marina everywhere. The kids can also look forward to enjoying board games or arcade games which are already included in the staycation package!
When it's time for dinner, head to WOK°15 Kitchen to indulge in award-winning, classic Chinese cuisine!
4. A Romantic Escapade Staycation
In need of a slow and rejuvenating getaway from the daily hustle? Specially catered for couples, A Romantic Escapade Staycation Package features exclusive perks such as a complimentary aromatic massage for two at Spa Rael (worth $856++), a complimentary bottle of wine, honeymoon set-up and à la carte breakfast.
For couples who enjoy a good sweat together, head to our fitness centre! Besides working out with stunning views of the marina, the fitness centre is also coated with sdpro to ensure a clean and sanitized space for Members and guests to exercise in. It is also equipped with cardio, strength and resistance, free weights, functional training equipment for a good burn.
5. The Island Life Staycation

Looking for a more action-packed and adventurous getaway with your other half? Go for our Island Life Bundle!
In collaboration with Sentosa, couples can enjoy a more exhilarating staycation package in town. This exclusive package features a 240 Token Fun Pass that includes popular activities such as Go Green Segway Fun Ride, MegaZip, Sentosa Cable Car, a ride at HeadRock VR and more – all complimentary for you and your other half.
In addition, couples can also indulge in a 4-course dinner at LATITUDE Bistro alongside with an à la carte breakfast!