How To Enjoy A Unique Land and Sea Staycation In Sentosa
How To Enjoy A Unique Land and Sea Staycation In Sentosa
With the latest measures set in place to curb the spread of COVID-19 in Singapore, many affected Singaporeans have had to cancel vacation plans, honeymoons, weddings and social events.
In these uncertain times, we offer some cheery tips to make the most of the gloomy situation.
Charter a Yacht Out To Sea
Here's an extraordinary "overseas" holiday plan – charter a private yacht out to sea for you and your family. A 2D1N getaway to Lazarus Island offers a unique staycation in definite solidarity. You can play with watersports crafts (kayaks and stand-up paddleboards), rent a jet ski, host a barbecue onboard, or even just lounge by the sea on giant floats.
See yacht charters available at ONE15 Life.
Have a Staycation at ONE°15 Marina
Many hotels (including ONE°15 Marina Sentosa Cove) are now offering extraordinary deals for staycation bookings. There isn't a better time than the present to try out all the hotels you've always wanted to try, at a discounted rate, while staying safe indoors.
ONE°15 Marina Sentosa Cove, as a small boutique hotel with only 26 rooms, is a peaceful paradise nestled in Sentosa Cove away from the crowds. With attached bathrooms (equipped with instagrammable sunken bathtubs), free Wifi, and spectacular views of the marina, you can ease your worries away in this little corner of paradise.
Escape to Sentosa Cove
Sentosa Cove, with its exclusive location away from mainland Singapore, is a scenic alternative to walking through malls when you get cabin fever from staying indoors. Wide open walkways and spacious eateries mean plenty of room to stroll around and enjoy a meal while practicing safe social distancing.
WOK°15 Kitchen and LATITUDE Bistro are still open for business, with precautionary measures in place to ensure ample space between each table and frequent sanitary wipe-downs.
Take a dip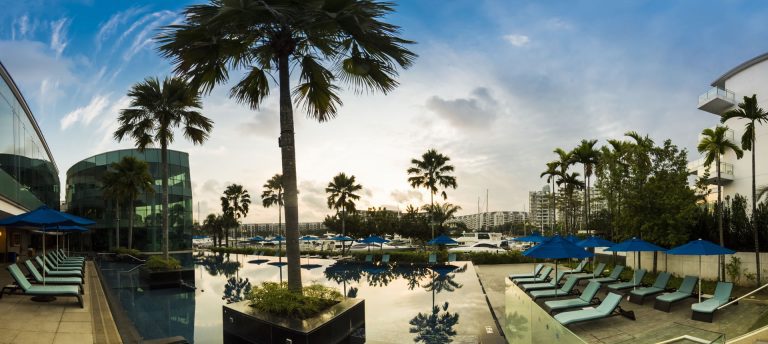 Overlooking magnificent views of the marina, ONE°15 Marina's infinity pool is a great place to enjoy both land and sea views. Sunbathe, take a dip or simply lounge by the pool during your staycation. It is one of the safest place to spend time meaningfully as Chlorine has been proven to be effective against bacteria and viruses.
If swimming isn't your cup of tea, bicycle rentals are also available for exercise with sufficient personal space.
ONE°15 Marina gives our best wishes to all our guests to stay safe, healthy, and hardy.
We are stronger, together.
---
From 1 Nov till 31 Dec 2020, enjoy special rates on family or couple packages featuring treats that are sure to delight everyone!