Simple Food Plating Tips to Transform Your Home-cooked Meals into Gourmet Cuisine
Simple Food Plating Tips to Transform Your Home-cooked Meals into Gourmet Cuisine
Do you know thoughtful plating enhances both the look and taste of your food? As we are dining at home more often during the circuit breaker, here are a few tips and tricks to dress up your plates and present your dishes in a more aesthetically pleasing and appetizing way!
General Tips
Sight
Choose bright-coloured vegetables such as bell peppers, capsicum, tomatoes, red radish and carrots. Avoid dull-colored greens.
Tip: Do not overcook the vegetables so as to maintain their healthy, bright colours.
Elevate the palette instantly with a salad that uses bright, refreshing greens such as celery, leaves, butter lettuces, crisp asparagus and others.
Complement the colours on your plate with one another! Make sure to also keep them well-balanced.
For example, a dish filled with refreshing greens can be paired with yellow and orange sides/ sauces for a colourful and appetizing look. We recommend to opt for lighter sauces.
Sprinkle some oil for that extra shine to your dish! Truffle oils, olive oils, basil oils are some that we recommend.
Add some flowers for a more delicate and elegant touch!
Receive a free ONE°15 Marina recipe book!
8 tantalising recipes await!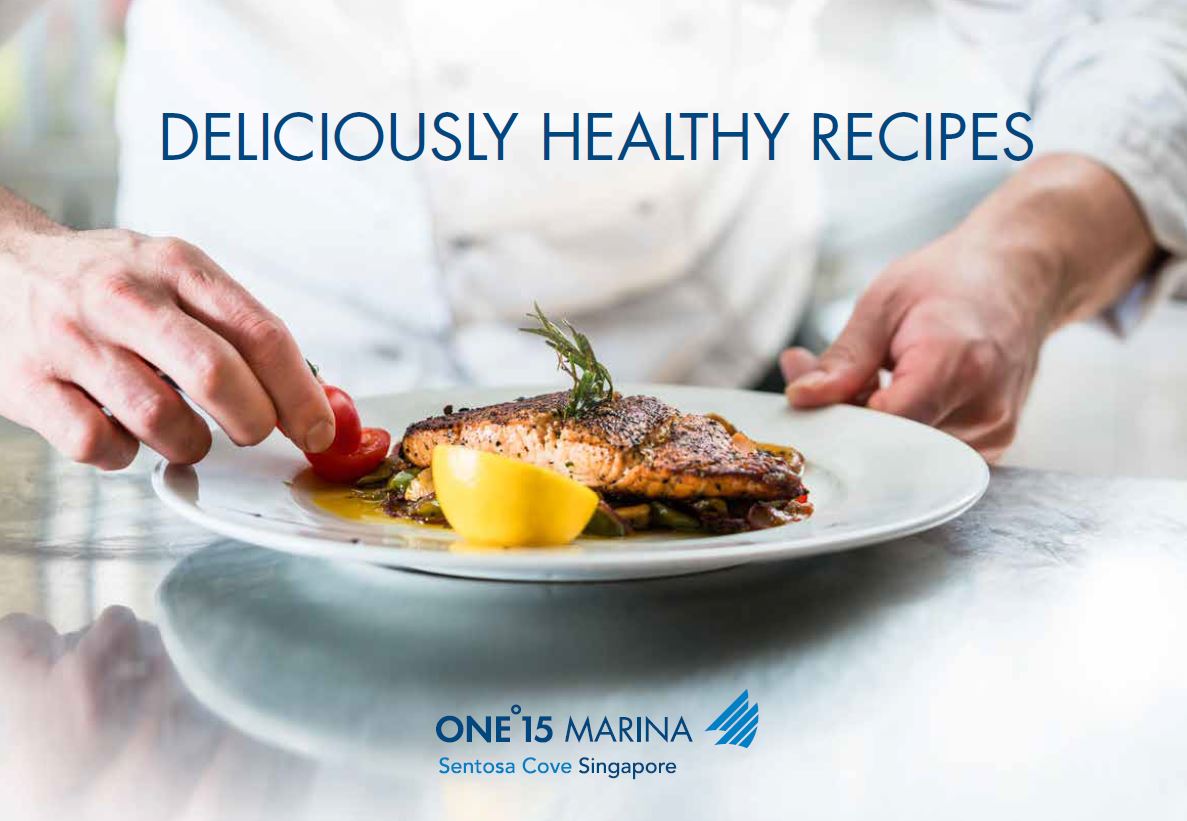 Proportion
Main courses should be around 150g and vegetables should not be more than 75g.
Scent & Taste
To stimulate the appetite, add some zest from lemons, oranges or yuzu in your appetizers for a citrusy taste. Alternatively, you can also go for vinegar.
To enhance the taste of the main course, add a dash of truffle oil, fresh oil or olive oil.
To elevate the overall dining experience, drizzle some wine over your dish. If you prefer something more refreshing, opt for herbs.
For the Picky Eater
Here are some bonus tips to make meals appealing to those who are more particular about their meals.
Sight
Excite the kids by preparing the dish in the form of their favourite comic/ cartoon characters. We also encourage parents to prepare meals in different shapes to also facilitate their learning!
Kids love chocolates, milky and sweet food so go for light, creamy sauce/ vegetable sauce or simply add a drizzle of honey onto their toast.
For kids below 5 years old, go for mashed food such as mashed carrot, mashed potatoes, mashed salmon. (we love this as it is packed with omega 3!)
For kids above 5 years old, we recommend lean meat/ minced meat.
Try to cook meat that are boneless so children can bite and chew easily and avoid the possibility of choking.
Proportion
Keep meals between 80 – 100g.
Scent & Taste
Avoid adding too much scents/ seasonings in children's food. Opt for natural options.
Avoid spice, pepper and overly oily food.

For the Kids
When preparing meals for children,
Opt for food with high omega3 such as salmon, fish, fresh tunas, soy beans, sardines.
Opt for food with vitamins and anti-oxidants such as berries, dark cherries, avocado, papayas.
Opt for boneless meat so children can bite and chew easily.
Make sure that the food are all mashed/ cut into small pieces so children can eat and digest them easily.
Avoid deep fried food.
Avoid processed food as they are high in sodium and nitric salt.
Avoid raw food. Food should fully cooked and ripe for children.
Avoid garlic and ginger as they are too strong in flavour for small kids.
For plating demonstrations by ONE°15 Marina's Celebrity Chef William, check out his cooking videos here.
Delectable dishes are also available for takeaway at our F&B outlets:
LATITUDE Bistro: https://bit.ly/2Wm9DfO
WOK°15 Kitchen: https://bit.ly/35r3xig